The BCBUA Board of Directors is pleased to announce that Blaise Laveay will be appointed as the next Provincial Supervisor of Umpires in British Columbia's long baseball history! The 48-year-old Kamloops native, and current Kelowna resident, will be the 4th Provincial Supervisor when he replaces the retiring Supervisor Steve Boutang who served in the position from 2010-2022. The legendary Howard Chapman and Richard Christie served earlier terms.
Laveay was a former catcher with Team Canada's Junior program that won Gold in the World Youth Championships in Brandon, MB in 1991. After his playing days were complete, Laveay looked towards another avenue in an attempt to stay in the game at a high level.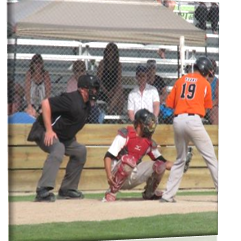 Since becoming an umpire, Laveay has quickly risen through the ranks, using his tremendous knowledge of the game and natural abilities on the field to gain credibility amongst peers, coaches and players alike. He obtained his National level 4 rating in 2015, attended the National Bantam championship in 2017, and the Canada Cup in 2019 while earning medal assignments at both tournaments.
Some of the other prestigious events he has worked include: West Coast League, Canadian College Baseball Conference, NAIA, Kamloops International Baseball Tournament, Grand Forks International, and several Sr. Men's Provincials.
Laveay has also completed the Caravan Clinician instructor program and has been instrumental in grass roots mentorship and administration in the Central Okanagan. He has recently been the BCBUA Area Rep for the Thompson region.
Boutang, meanwhile, will remain in the position of mentor to Laveay for a suitable timeframe until the official transfer of responsibilities takes place later in 2022.
If you have questions about this article, please direct them to BCBUA President Rhonda Pauls at ladyblue.uic@gmail.com